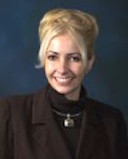 Ms. Kristi Mollis is the President/CEO of Everglades University overseeing the University's five campuses located in Boca Raton, Sarasota, Tampa, and Orlando, Florida & an Online Division.  She has been the EU President for the past 15 years.  President Mollis holds an MBA from Nova University and a Bachelor of Arts Degree in Business Administration from Baldwin-Wallace University.  Ms. Mollis was recognized in 2012 as the South Florida Business Leader of the year in Education
Ms. Mollis has been recognized by the Commonwealth Institute as one of the Top Women-Led Non Profits in Florida for the past four years.  In 2017 she was ranked number two in the State Florida on the Top 10 List.
Ms. Mollis has over 27+ years of experience as an academic leader in post secondary education.  From 2009-2013 President Mollis served as an elected Commissioner and officer on the Executive Committee of the Accrediting Commission of Career Schools and Colleges of Technology (ACCSC) a USDOE accrediting agency.  She was honored by ACCSC in 2007 and awarded the 2007 Team Leader of the Year.
Ms. Mollis serves as an On-Site Evaluator for the Southern Association of Colleges and Schools Commission on Colleges (SACSCOC) and also served as an ACCSC Team leader conducting over 30+ announced and unannounced visits for these Commissions.  President Mollis has been a VISTAGE member for over 13 years. President Mollis has attended over 100+ professional development workshops including: USDOE, FLDOE, SACS, VA, SEVIS/INS, ICUF, ACCSC, FAPSC, CCA, Team Leader Training, Commissioner Training, Commissioner Meetings, and other regulatory body workshops.
Under her leadership Everglades University has grown from one campus to five locations, from a College to University status, from under 100 students to over 1,500 students, and moved from a national to a regional accreditation.  Everglades University is a level III SACS Accredited University and member of the Independent Colleges and Universities of Florida (ICUF).
Under President's Mollis guidance and leadership EU has received many outstanding awards and recognitions:
2007 President Kristi Mollis received the Team Leader of the year Award from ACCSC for her work serving as an on-site reviewer conducting over 35+ college visits.
2009-2013 President Kristi Mollis was voted in as a Commissioner and a Member of the Executive Committee for ACCSC a USDOE Recognized Accrediting Agency.
2012 President Kristi Mollis was named the Business leader of the Year Award in Education.
2016-Current President Mollis serves as an on-site evaluator for SACSCOC